What is this campaign about?
Since the end of the pandemic the number of homeless children has gone up by 60%. (60.3% between March 2021 – March 2023).
There are now 3,472 children[1] experiencing homelessness.  With the lifting of the eviction ban, thousands more families are losing their homes and the number of homeless children will rise again. We know homelessness is traumatic for children, and we believe that everything possible must be done to reduce this impact on children. In the words of our founder and lifetime president, Sr. Stan, "It's worse for the children."
[1] Department of Housing, Local Government and Heritage Monthly Homelessness Report, March 2023.
+ Click to view more
Impact of homelessness on Children
When a family becomes homeless, they have to go to their local authority to have their housing need assessed and to get help. Despite all the evidence about the harm that homelessness does to children, the local authority operates under laws that were written over 40 years ago and do not even mention children or their needs.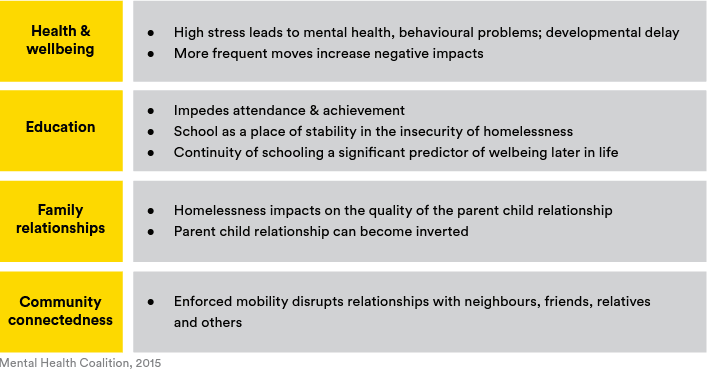 There are a lot of things that need to be done to end family homelessness, but writing the needs of children into the laws which guide our local authorities would be a great start. This can be done by adding 'best interests of the child' into the things that local authorities must take into account when homeless families come looking for help. We believe that the needs of every homeless child should be assessed, including factors such as access to their school, medical and therapeutical needs, and how to support family relationships. Every child who needs it should have timely access to a child support worker.
+ Click to view more
Under the current legislation governing local authorities, there is a Housing Needs Assessment completed for the parent/ guardian and this counts the number of children accompanying the parent. Children do not have a Housing Needs Assessment completed and therefore their individual needs are not considered. We believe that children are particularly vulnerable after they have lost their home and we believe that 'The Best Interest of the Child' should always inform decisions around where a family should be housed. A Housing Needs Assessment should be undertaken for every child and should include factors such as access to their school, waiting lists for medical or other therapeutic supports and supporting relationships with the wider family network and non-custodial parents, where applicable.
In 2012, a referendum was passed by the citizens of Ireland to amend the Irish Constitution. The Thirty-first Amendment of the Constitution (Children) Act 2012, amended the Constitution of Ireland by inserting clauses relating to children's rights and the right and duty of the state to take child protection measures. By voting to pass this referendum. The citizens of Ireland showed that they believe that children should have rights and that the state has a duty of care to our children. We believe that homelessness is one of the most egregious breaches of  the state's duty towards children and that all local authorities should be obligated to ensure the Child's Best Interest is considered and to put mitigate (in as much as possible) against a long lasting impact on children.
The state ratified the Convention on the Rights of the Child in 1992, and we therefore have international obligations towards children. On February 9th 2023, the United Nations Convention on the Rights of Child recommended that the State "Address the root causes of homelessness among children, strengthen measures to phase out temporary and emergency accommodation schemes and significantly increase the availability of adequate and long-term social housing for families in need."
If  you would like to read more, see our research on the supports needed for children experiencing homelessness or on the impact of homelessness on child nutrition.
What do we want?
We want the homeless legislation to be reformed so that local authorities and public servants delivering services must put the rights and best interests of the child first in any decisions they make.
In 2017, the opposition Labour Party introduced the Housing (Homeless Families) Bill which did just that. The Bill was supported by every political party but never passed due to a change of Government. We would like to see this Bill re-introduced and passed. this Bill to protect children. The Bill calls on Local Authorities to:
recognise the persons concerned as a family unit,
 regard the best interests of the child as a paramount consideration,
and
have particular regard to the need by practical means to protect and assist families, including by providing them with safe accommodation, in order to support and encourage—
the effective functioning of families, and
the development, welfare, and protection of children within a family home.
+ Click to view more
What can you do?
We are asking you make a difference by signing this petition calling on the Government and members of Dail Eireann change the law to make the 'best interests of child' central to our housing system.
Once you have signed the petition, please do encourage family, friends and all in your social network, to sign and share.
+ Click to view more