Understanding housing inequalities: The disproportionate risk of homelessness facing migrants living in Ireland
Author: Adam Spollen
March 2022 saw a sharp rise in the proportion of people with European Union or European Economic Area (EU/EEA) citizenship newly presenting to homeless services, according to figures reported by the Dublin Regional Homeless Executive (DRHE). The increase sparked media speculation concerning the causes of this, the role played by migration, and the implications of this apparent trend for homeless services and the housing sector in general. However, the most recent DRHE Monthly Report to Dublin City Councillors on Homelessness shows that the proportion of new presentations from persons with EU/EEA citizenship markedly fell to a more typical level in April.
We believe that it is necessary to look at the long-term pattern, as well as research on the various risk factors of homelessness and their disproportionate effect upon marginalised communities, in order to better understand these trends.
Since June 2021, the DRHE has recorded the citizenship of persons who newly entered emergency accommodation within its monthly report to Dublin City Councillors on Homelessness. This inclusion has provided greater clarity on the realities of homelessness within the Dublin region, and its disproportionate effect upon migrants. According to data in reports no.18-24, which cover the June 2021-Februrary 2022 period, single adults with EU/EEA citizenship accounted for an average of 22% of new single adult presentations, while families with EU/EEA citizenship accounted for an average of 29% of families entering emergency accommodation.
The data recorded on other citizenship cohorts newly accessing emergency accommodation in the Dublin region during this time period shows that single adults with Irish citizenship accounted for an average of 59%, and those with non-EU citizenship accounted for an average of 18%. With respect to new family presentations, families with Irish citizenship accounted for an average of 51%, while families with non-EU citizenship made up an average of 23%. The proportion of both EU/EEA citizenship and non-EU citizenship amongst new presentations in the Dublin region have demonstrated gradual upward trends since the date they were first recorded.
Figure 1: Citizenship of New Single Presentations in Dublin Region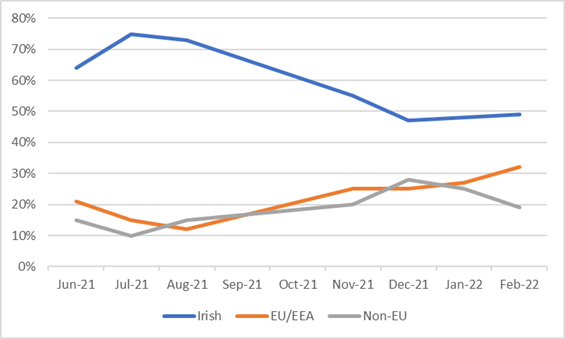 Based upon 2016 Census figures, non-Irish nationals comprise 12% of the total population, meaning that these figures evidence a disproportionate representation of migrants and ethnic minorities amongst those experiencing homelessness. However, what do we know about this overrepresentation? Research has previously shown that migrants and ethnic minorities living in Ireland face a disproportionate risk of homelessness. There are a number of factors which influence the proportion of non-Irish nationals experiencing homelessness, such as discrimination by potential landlords, and an evidenced overreliance on the precarious private rental market.
Considering the latter of these factors, the vast overrepresentation of migrants within the private rental market, 2021 research from IHREC and the Economic and Social Research Institute (ESRI) found that migrant groups are significantly more likely to live in rented accommodation, with 48% of this cohort renting compared to 9% of those born in Ireland. The report also shows that specific groups within the migrant population are represented more than others, 80% of nationals of eastern-EU Member States are residing in rented accommodation. This has been linked to the concentration of this cohort within lower-paid employment with higher job precarity, as found in a 2020 ESRI report, making it difficult for these groups  to become homeowners in Ireland . Focus Ireland research has highlighted how private rental market issues remain a significant driver of homelessness, with 32% of participants citing the landlord's intention to sell the property as the trigger to homelessness, and a further 28% citing other private rental sector related issues such as increasing rent or overcrowding.
Figure 2: Notices of Termination received by RTB Q1 2021- Q1 2022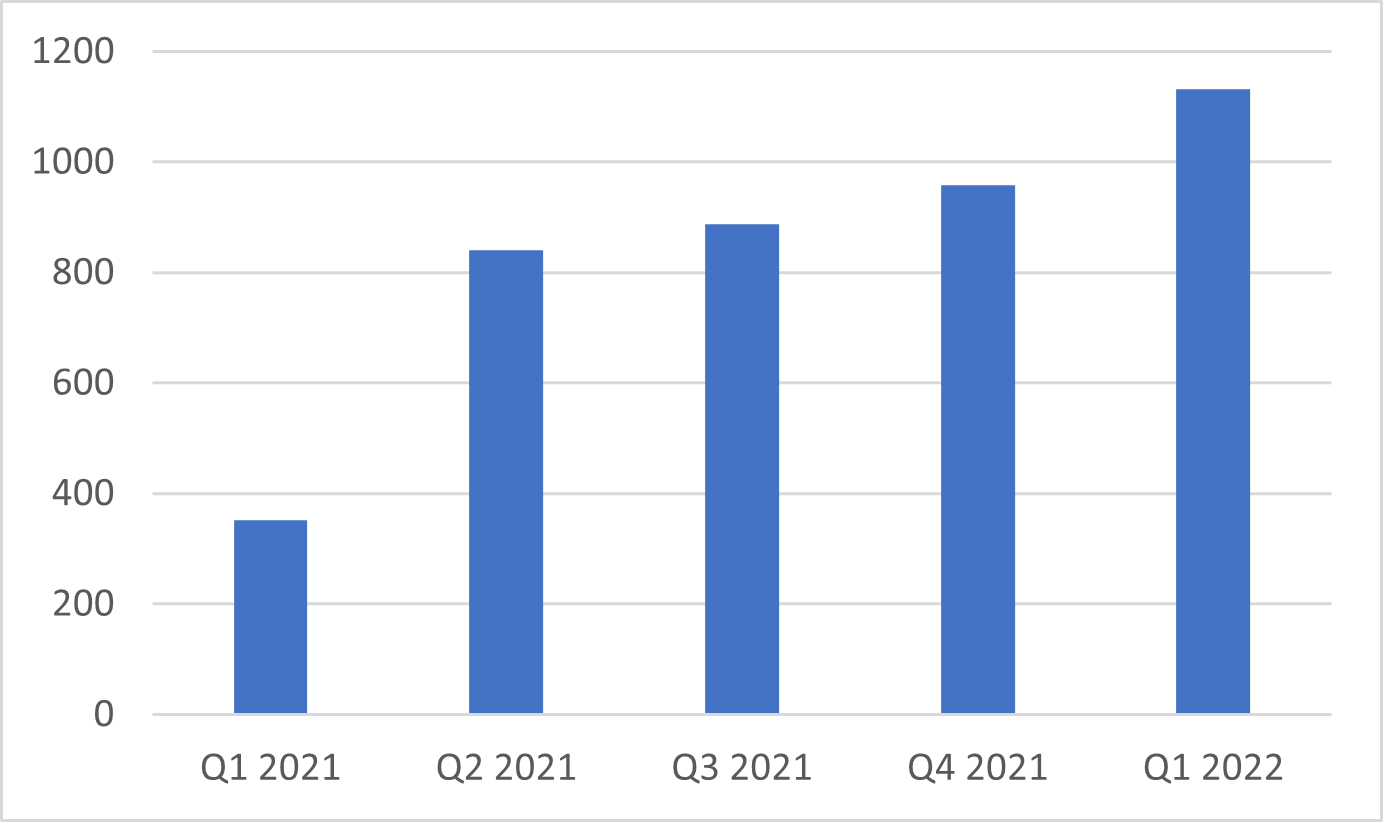 Emergency legislation passed in 2020 allowed for the introduction of eviction moratoriums while Covid-19 restrictions limited people's movement, slowing the flow of people into homelessness. However, following the lifting of a four-month moratorium in April 2021, the number of Notices of Termination (NOTs) received by the Residential Tenancies Board (RTB) increased in each quarter to Q1 2022. Moreover, an increased percentage of these NOTs compared to previous years were issued due to the landlords' intention to sell the property, resulting in a shrinking private rental market for those facing eviction. Given the noted overrepresentation of migrants in the private rental market, this surge in evictions would be expected to have a disproportionate effect on migrant groups. The lifting of the moratorium and subsequent increase in notices of termination and evictions may explain the steady rise in new presentations by persons with EU/EEA citizenship between Q2 2021 and Q1 2022.
Figure 3 : EU/EEA Citizenship as Percentage of New Single Adult Presentations 2022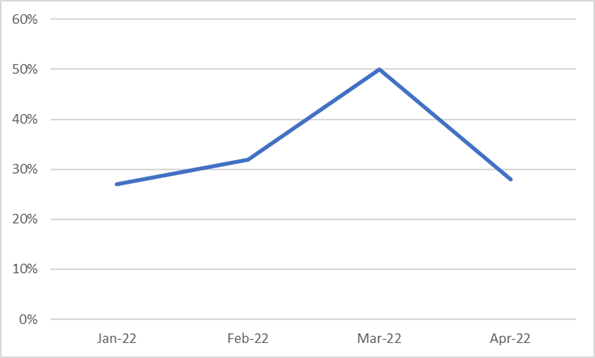 Figure 4: EU/EEA Citizenship as Percentage of New Family Presentations 2022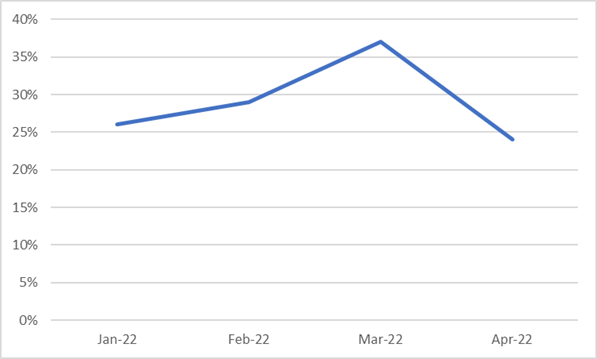 In March 2022 there was a significant increase in the proportion of EU/EEA citizens amongst new single presentations, and new family presentations, compared to the general trend outlined above. Report no. 25 compiled by the DRHE shows that this cohort accounted for 37% of new family presentations and 50% of new single adult presentations for that month. This represents increases of 8% and 18% respectively compared to the previous month, and furthermore is 15% and 21% higher than the respective averages across the previous eight months. The increase amounts to an additional 11 families, and an additional 38 single adults with EU/EEA citizenship newly presenting as homeless in comparison to February. Rather unusually, 23 new families presented upon arrival in the State.
However, rather than representing a changing trend, the most recent report published by the DRHE shows that the proportion of new EU/EEA presentations markedly fell in April. This cohort accounted for 28% of all new single adult presentations and 24% of new family presentations, meaning respective decreases of 22% and 13% compared to March, and a return to figures in line with the previous trend. Regarding those who were not normally resident in Ireland, this dropped significantly to 8% of new family presentations. Once again, there are a number of factors which may have contributed to the spike in EU/EEA presentations, including by those who are not normally resident in the State.
The European Migration Network noted in 2020 that the Irish agricultural industry regularly seeks to attract seasonal labour from EU/EEA States. A 2018 report by Teagasc evidenced the reliance of the Irish horticultural industry on seasonal labour, finding that 75% of workers were non-Irish EU nationals, many of whom had travelled to Ireland for seasonal work. The report also highlighted low wages and a lack of accommodation for workers as challenges to both recruitment and the well-being of the workforce. The challenge associated with a lack of suitable accommodation is likely to have increased in light of the shrinking private rental market and the related increasing cost of rent. It is worthy to consider that, as seasonal migration for the purpose of agricultural and horticultural labour increases as the effects of the Covid-19 pandemic ease, the unavailability of affordable accommodation for seasonal workers and reduced likelihood of temporarily residing with family or friends in the State may have resulted in some workers and their families relying on emergency homeless accommodation.
Another factor to consider in the analysis of this spike is the current crisis in Ukraine, which the United Nations (UN) has cited as the largest displacement of people in Europe since World War II. The accommodation of persons from Ukraine seeking protection in the State has been coordinated by the International Protection Accommodation Services (IPAS), with the intention for this humanitarian crisis to remain entirely separate to emergency accommodation managed by Local Authorities or operated by homeless services. Although, it must be considered whether a small number of individuals may have presented as homeless having travelled to Ireland from Ukraine, rather than presenting to dedicated hubs operated by the Department of Social Protection. This may be the case due to difficulties with translation and literacy, for which Focus Ireland has previously called for improved supports.
As noted, the spike in March relates to an additional 38 individuals and an additional 11 families from EU/EEA Member States in comparison to the previous month. Rather than representing increased pressure on homeless services and emergency accommodation for which migration is responsible, this issue highlights a shrinking private rental market and high rents which are out of reach for those in low-paid employment. As the research mentioned above shows, these are factors which disproportionately affect migrants and ethnic minorities who normally reside in Ireland, as well as those who travel to Ireland for seasonal work.
In light of the trends discussed, Focus Ireland reiterates the call for culturally sensitive translation services to be made available to all those accessing homeless services who are in need of such supports.
+ Click to view more
Focus Blog

The Government's hasty introduction of a Winter Eviction Ban has failed to halt the rise in the total number of individuals in homelessness so far. The November 2022 homeless figures are the first to reflect the impact of the ban, which came into force at the start of the month but, rather than the decrease that some had predicted, they showed a further increase of 145 to yet another new record level.